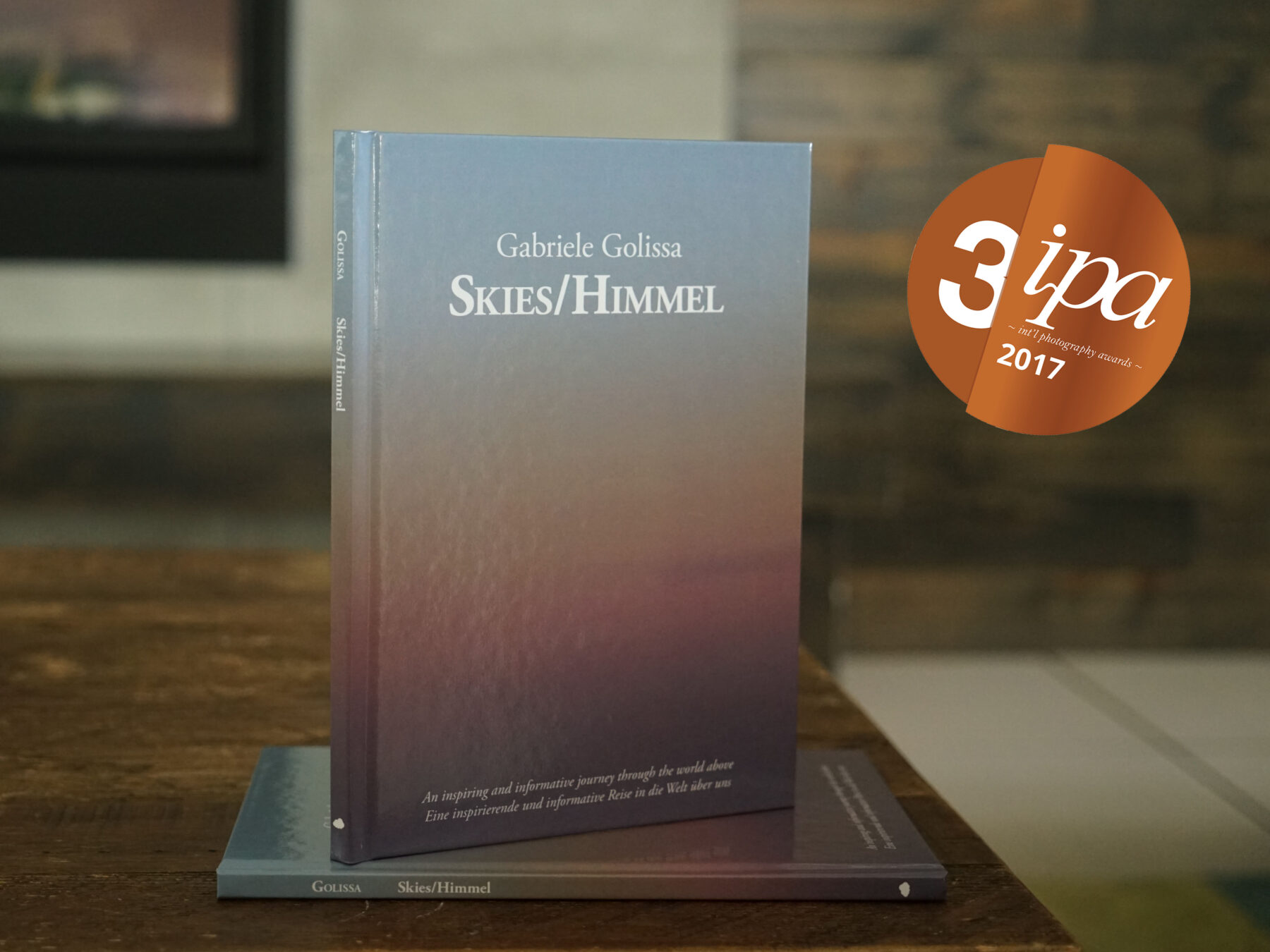 Gabriele Golissa: »Skies/Himmel«: An inspiring and informative voyage through the world above.
German-born and now Montana-based fine art photographer Gabriele Golissa takes you on a journey through her skies. Enjoy wonderful photographs of skies in almost every color, learn where the colors of the skies come from, and look at interior design ideas and how a Skies by Gabriele Golissa™ photograph could look in your home. The ideal book for art lovers, fans of photography, and nature enthusiasts alike. Fully bilingual (English/German).
»Skies/Himmel« a Bronze Winner at the 2017 International Photography Awards (IPA)!
The prestigious IPA is a sister-effort of the Lucie Foundation. The Foundation's mission is "to honor master photographers, to discover new and emerging talent, and to promote the appreciation of photography." Incepted in 2003, the IPA received nearly 15,000 submissions from over 165 countries across the globe in 2017. The jury panel selected Skies/Himmel as a winner in the Book – Monograph category.
Take a look at a few sample pages from Skies/Himmel:
"Comprised from cover to cover of wonderful photographs of skies in almost every color, Skies/Himmel reveals where the colors of the skies come from. Of special note is how Skies/Himmel will inspire interior design ideas for the home or apartment. (…) A unique and original volume of inherently fascinating visuals, Skies/Himmel is very highly recommended for personal, professional, community, and academic library Contemporary Photography collections."
—Midwest Book Review
Watch the Skies/Himmel book trailer:
Skies/Himmel is available at your favorite bookstore and online:
– Hardcover | ISBN 978-0-9989432-0-6 | 36,00 $
– E-book for iPad and Mac | ePUB3 | ISBN 978-0-9989432-1-3 | 12,99 $
– E-book | Kindle | ISBN 978-0-9989432-2-0 | 9,99 $
Hardcover: 84 pages | 10.88 x 8.00 inch